The other side of Carr Winery is Carr Vineyards. When Ryan isn't hard at work creating delicious wines for you to enjoy he is up in the Santa Ynez Valley farming over 100 acres of vineyards. Carr Vineyards is a management company that installs and maintains vineyards for an array of clients. This affords Carr the pleasure of working with so many wonderful varietals grown in so many different areas.
There is a lot that goes into getting a vineyard established and creating strong low yielding vines that will one-day produce the delicious wine for your glass.
The first step in vineyard installation is to assess the soil. Ryan takes soil samples in different spots and at different depths on a potential vineyard site. These samples are then sent in to the lab for analysis. Once the nutrient levels have been determined he can then amend the soils to suit high quality wine grape production. The soil analysis also helps to determine the type of rootstock that will be best suited for the location. Typically he likes to use a low vigor rootstock that is drought tolerant. Next he needs to plan out and install the trellising and irrigation systems so that the site is ready for planting in June.
Once the vines are planted, Ryan will slowly nurture them over three to four years before they start producing fruit.  The first year he concentrates on getting the root systems strong and deep into the earth. He prunes the vines heavily and drops all the fruit so all of the energy goes straight to the root growth. The second year he continues to concentrate on the root system but now he also focuses on training the vines on the trellis.  He will prune heavily again keeping only the strongest shoots in hopes that one will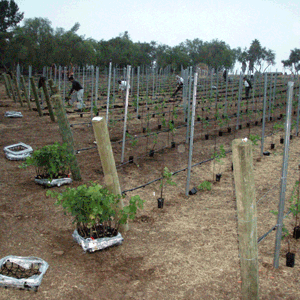 be trained into a good supporting trunk.  Depending on the vineyard and the varietal Ryan might be able to harvest during this third year otherwise he will need to take an additional year to get the vines more established.
After the vineyard is established Ryan spends the growing season thinning the leaves and grapes to get the best sun exposure and the best quality grapes possible.  After harvest is over and the first frost hits, the vines go dormant.  All of the nutrients in the leaves are pulled back into the root system where it is stored awaiting next year's bud break.  In the spring he starts all over again pruning the shoots and getting ready for another delicious year.