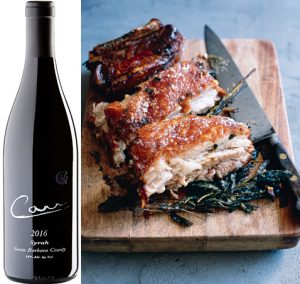 Pork belly is one of my favorite cuts of meat these days. While some people consider pork belly nothing more than a fancy version of bacon, it really is so much more than that. In fact, it is considered a delicacy in many parts of the world! This version of pork belly is crispy on the outside, yet tender on the inside. It is a perfect match for our 2016 Carr Santa Barbara County Syrah, that has just as much style as this trendy piece of meat. Enjoy!
Sage and Honey
Roasted Pork Belly
Ingredients:
1 lb. pork belly
1 tbsp. honey
1 tbsp. water
1 bunch of fresh sage
Sauce
1 tbsp. honey
1 tbsp. cooking wine
2 tbsp. soy sauce
1 tbsp. oyster sauce
1 tbsp. hoisin sauce
¼ tsp. ground white pepper
Directions:
1. Clean the pork belly and drain. In a large bowl, mix all the ingredients for sauce. Marinate the pork belly in the sauce for 24 to 48 hours in the fridge.
2. When ready to cook the meat, preheat oven to 385ºF.
3. In a small bowl, mix the honey with the water. Brush the honey sauce on both sides of the pork belly. Roast for around 20 minutes.
4. Turn over and brush the other side with honey water. Sprinkle fresh sage on the meat. Turn up the temperature to 400ºF and roast for another 15 minutes.
5. Cool down for several minutes and cut into slices before serving.

Serves 4
recipe adapted from China Sichuan Food