50th Anniversary of Earth Day
April 22, 2020
What makes a winery green? 
You may be surprised how earth friendly a winery can be. In order to truly produce an ultra premium wine a winery has to be deeply connected to the land and make the most out of every step it takes from the dirt to your dinner table. Carr Vineyards and Winery takes great care with everything that is involved in the farming, production, distribution, and consumption of wine.
In The Vineyard
Vineyards has been farming organically since 2000. We incorporate organic practices in all of the vineyards we farm. The use of cover crops in the field is just one of the many ways we try to improve the soils and the ecosystem each year. Cover crops are planted in the fall and are comprised of grasses, clovers, legumes, and even beans. Once the cover crop has grown up to produce seeds we mow it down to create green mulch that includes the seed for next years' cover crop. Next we till the green mulch into the soil in every row increasing the organic material in soil. This also allows us to maintain an environment for the beneficial insects to live and reproduce.
Not only do we employ insects to protect the vines we also try to provide an environment for the predator birds to help maintain the rodent population in the field without using any pesticides.


Wine Production
All of our fruit is hand picked at night to capture the chill of the night air. This makes it possible for us to minimize the use of refrigeration to cool down the fruit after harvest. Our warehouse also uses a night air cooling system to maintain the temperature of the building. An exhaust fan will turn on when the outside temperature is just right and will pull all of the warmer air out of the building replacing it with the cool crisp night air from outside. When it comes to winemaking, Carr Winery uses no additives to produce the wines. The ingredients in our wines include: Wine Grapes, Yeast, and less than 15ppm of SO2. We use No coloring, No sweeteners, and No fining agents in our winemaking process. We make sure that only the best and cleanest fruit comes into our winery.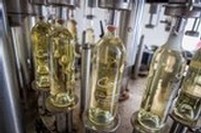 Wine on Tap ~ Kegging ~ Growlers
Wine on tap is a concept that has been revived in the last 10 years. Carr Winery first started kegging wine in 2008. The wines that we make for our tap program are made with the same approach and attention to detail as all wines made at Carr. The only difference is when it comes time to bottle we put the wine into a reusable stainless steel keg. Kegging wine results in a 96% reduction in carbon footprint versus the traditional serving of wine from a bottle over the course of 20 years, and each steel keg introduced into service eliminates the same amount of carbon emission that one car puts out for two whole years. The wine growlers are not only stylish and fun they are 100% reusable. Each bottle that is returned to the winery is sanitized using an environmentally friendly three-step system that includes Ozone, Soda Ash, and Citric Acid. This allows us to reuse the wine growlers many, many times. So grab your growler now and start refilling.
The Barrels



All of our barrels are sourced from sustainable producers and we get a lot out of them. Our barrels are very well taken care of so we can get close to 10 vintages out of each one. After a few uses they do not add much oak flavor to the wines, but that is what we like! Santa Barbara County wines have proven that they do not need new oak to add to their complexity. When a barrel is ready to be retired, we re-purpose them in many ways, and we encourage you do the same. We have both whole barrels and half barrels for sale at the winery now so give us a call to order 805.965.7985.
Our Tasting Room

We even created a space for you to enjoy our wine using re-purposed materials. Our bar is made from retired wine barrels. Ryan Carr and his first assistant winemaker Nic Donahue built it back in 2005. The bar still stands today and is getting refinished right now by Ryan and his current assistant winemaker Shane McCarthy. When we created our patio we used more than 75% of the materials from the original building we knocked down. We found that the roof of the old building was made out of 6" tongue and groove cedar decking. We took the time to remove all of the old nails and milled the 30 year old wood down to create the beautiful 1"x4" boards that now make up the fence, bench, and boxes. We used the big timbers that supported the building to create an iconic entrance to our new patio. With what was left of the big beams, we created a 12 person wine tasting table with a light that shines through using reclaimed glass from the old skylights. This tabletop sits on a set of re-purposed barrel racks in the Wine Collector's Room.
These are just some of the ways that Carr Vineyards and Winery considers the earth, the environment, and our eco-system when we produce wines for you.