Food Drive-Thru Fundraiser to Benefit the Foodbank of Santa Barbara County 5.31.2020
May 31 @ 12:00 pm

-

4:00 pm
Carr Winery is hosting a Food Drive-Thru Fundraiser to Benefit the Foodbank of Santa Barbara County. Event will be happening on Sunday, May 31st from 12:00pm – 4:00pm at Carr Winery in downtown Santa Barbara. Carr Winery is located at 414 N. Salsipuedes Street, Santa Barbara, CA 93103.
Carr Winery has been a part of the Santa Barbara community for over 20 years. They have hosted countless parties for non-profits, and have always enjoyed bringing people together for a good cause. Since COVID-19 put restrictions on how events can function now, Carr developed an idea to create a safe, fun, and entertaining way to give back to the community: A Food Drive-Thru Fundraiser featuring live music, and wine to go.
On Sunday, May 31st Carr Winery will be donating 20% of all wine sales to support the Foodbank of Santa Barbara County. Food is an essential item needed for all especially children, families, and seniors, and Carr wants to help the Foodbank reach their goal of $1,000,000. $1 donated = 8 meals
Ways you can help the Foodbank & participate in the Food Drive-Thru Fundraiser at Carr Winery:
Bring a non-perishable food item to the Food Drive-Thru on May 31st.
Items needed the most: Nut Butters, Canned Proteins, Whole Grains (rice, quinoa, barley), Canned Fruits & Vegetables, and Pasta.
Order wines online at carrwinery.com or call 805.965.7985 to place an order. 20% of all wines sold on May 31st will go directly to the Foodbank. Orders can be picked up at the Drive-Thru on Sunday or $1 shipping is available for 1-12 bottles.
Write a check to "Foodbank of Santa Barbara County" and drop off at Carr Winery.
A few more reasons you should participate in the drive-thru on Sunday:
Live Music – Local musician, Tony Ybarra Duo will be playing flamenco music for all attendees.
Free Roses – Every car that donates food or orders wine, will receive a small bouquet of roses.
How the Drive-Thru Works:
Please enter Salsipuedes Street from Gutierrez Street or Calle Cesar Chavez and then drive up to the door to drop off food and pick up wine.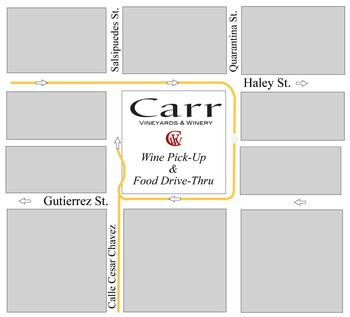 1. Order wine online www.carrwinery.com
2. Drive up to the door and drop off your non perishable goods
3.  State your name
4. We bring the wine & flowers to you
5. You drive off and enjoy the rest of your day
ABOUT FOODBANK OF SANTA BARBARA COUNTY:
The Foodbank Mission: "transforming the health of Santa Barbara County through fresh produce and essential foods, nutrition knowledge, and education for children, families, and seniors." The Foodbank has distributed over 3.1 million pounds since March of this year and completed over 10,000 deliveries to seniors! More than 85,000 individuals have been served thus far this year in Santa Barbara County. For more information on the Foodbank of SBC visit the website at www.foodbanksbc.org
Carr Winery has various parties throughout the year in The Barrel Room and at The Warehouse including art shows, live music, winemaker dinners and release parties. We also participate in many offsite events and tastings across the United States. The Barrel Room & The Warehouse are available for private parties. Carr Winery is an elegant setting for your corporate event, birthday, rehearsal dinner, anniversary or other private event.