These beautiful gift baskets are assembled and fulfilled by Santa Barbara Gift Baskets. We're proud to have Carr wines featured in their wonderful assortment of products. If you have any questions about these baskets or if you require assistance ordering by phone, please call Santa Barbara Gift Baskets directly at: (855) 744-7639 or (for locals) (805) 952-9002
When you click to purchase any of the baskets below, you'll be taken directly to the Santa Barbara Gift Baskets website to complete your order in a new window.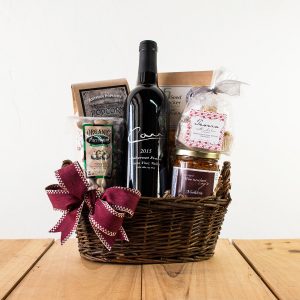 What's Inside?
In this elegant basket, the Carr Cabernet Franc is paired with a variety of our favorite gourmet snacks, including:
Santa Barbara Gourmet Popcorn
Santa Barbara Pistachios
Cabin 11 Five Seed Crackers
Los Olivos Café Tepenade
Tesora White Chocolate & Peanut Butter Treasures
Santa Barbara Pistachios
As for the wine, the Cabernet Franc has aromas of dark fruit and black pepper. It is rich in tannins with a big mouthfeel and flavors of dried red fruit, black licorice and dried herbs.
What's Inside?
One of our absolute personal favorite wines, and a gift we would choose to impress any wine connoisseur. The centerpiece of this beautiful basket is a bottle of Carr Winery Pinot Noir. This Pinot Noir has aromas of vanilla and cherry pie. It has an amazing balance of fruit, spice, earth and minerality with hints of cranberry, chalk and subtle sassafras. The flavors coat your mouth and linger on the finish.
Accompanying the wine are delicious gourmet snacks like
Santa Barbara Gourmet Popcorn
Santa Barbara Pistachios
Cabin 11 Five Seed Crackers
Los Olivos Wine Merchant Tepenade
Tesora Chocolate Peanut Butter Crisps